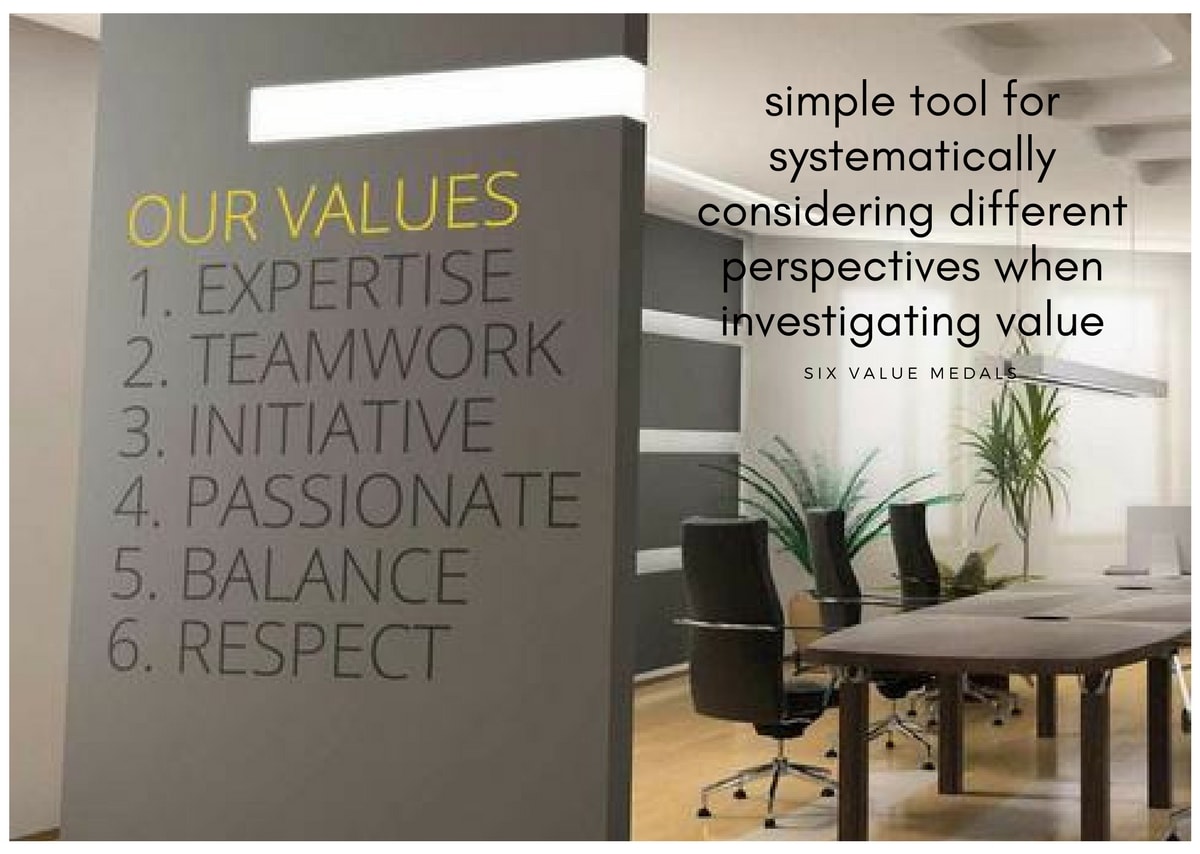 You hear it all the time--what is our value proposition? What's our value added? What if you could count on employees to sort options using a commonly understood framework that would increase the value of the organization at every turn--for customers, employees, stockholders, the community, and more?

The key to making decisions that will deliver maximum value lies in creating a framework that is specific enough to add meaning but is also pliable enough to expand and contract with each unique challenge. You'll find a framework robust enough to support these efforts in Dr. Edward de Bono's Six Value Medals™.

When employees can scan, identify and prioritize values, they become vital partners in growing your business.
All decisions stem from values. Most people are simply not aware of their underlying values. Knowing your values will help you lead more firmly and make decisions more confidently.
Identify your key values
Understand what values drive others
Focus on your organisations values
Make decisions in line with values
Deliver value to others.
Think about values in an objective way. Have a clear map of which values you want to act on. Assess the impact of your decisions based on the values delivered to yourself and others.
Assess values using framework
Communicate values to others
Map out values clearly
Check for missed values
Pinpoint sources of conflict
Value awareness and choice are essential for anyone who wants to lead by principle, do productive work, or live a meaningful life.
Leaders of organization
Managers of diverse teams
Executives seeking to add value
Individuals wanting better decisions
Create Value Systems
Make Decisions
Focus
Read More
Open House
Workshop Dates
New Delhi TBA
Mumbai TBA
Bangalore TBA
Register
Customize
It was a wonderful workshop. Perhaps, one of the best training I have ever attended. Thank you Dr. Sunil for keeping us thoroughly engaged and making us to think!
Shridhar H.M
Arvind lifestyle brands ltd
Getting more knowledge, how to manage situation, decision making and problem solving.
Savita Kulkarni
Siemens technology & services pvt ltd
Once in a while I attend training program in our organisation that is so encouraging that it makes time away from my core job worth while. It should have focus group session to solve the real problem caused by organisation.
Ravi Ranjan
Capgemini consulting india pvt ltd
Very interactive training. I had best engagement ever in life in any training attended till date. Trainer magically made everyone 100% awake even in after lunch hours
Piyush Pant
Ericsson india global services pvt ltd
These tools will help me to cover up with alternatives and better ideas in my personal lives.
Muhammad waseem
UTC Aerospace systems
Well structured cources. What was most interesting was the real life cause studies that Dr. Sunil related to different concepts. Most courses step at teaching new tools. However this one facilated stakeholder management which makes it very practical.
Priyanka ahuja
Deloitte consulting india pvt ltd
Brilliant learning and being aware of how to address and solve concerns in time bound manner and collaboratively. Some more videos would have made it more closer to the subject.
Gurvinder kumar
janalakshmi financial services ltd
Training helps a lot in all situation. I would recommend it strongly for others. Excellent!
Hema Chandra
Didelity business services india pvt ltd